How to reduce your operating costs!
In the event of a total loss of your spindle, the costs are at least 10,000 to 15,000 euros and the loss of production quickly amounts to more than 5,000 euros per day. Especially "unplanned" downtimes are annoying.
The analysis shows: 40% of this damage is directly and indirectly related to the cooling lubricant (KSS). In particular, the so-called "flooding the spindle" is a nightmare for the operator. This can result in damage to the electrical / electronic components or complete bearing damage.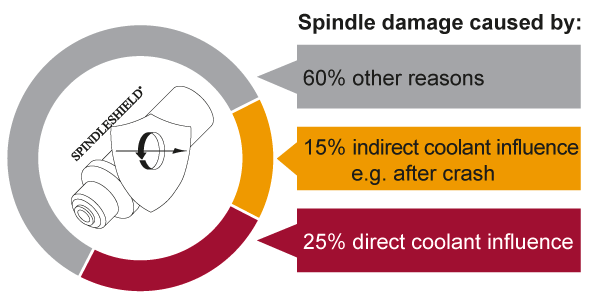 ---

Your "spindle insurance"
from DEUBLIN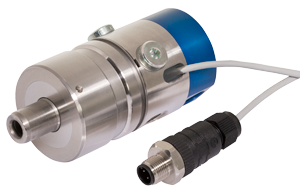 Modern, integrated sensors provide a remedy: The Deublin SpindleShield® technology is your solution and protection against spindle damage.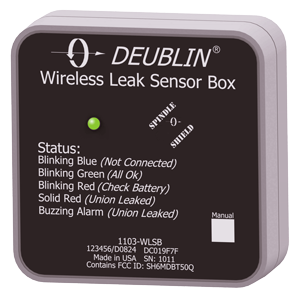 SpindleShield® protects your spindle from coolant damage
SpindleShield® keeps your machine operational
SpindleShield® limits potential spindle damages
SpindleShield® detects coolant at the critical point and moment
easy installation
---
Benefits
Particularly innovative and advantageous: the sensor strikes as soon as coolant penetrates the bearings of the rotating union. A signal is then transmitted to the machine control or directly to the external alarm unit. At this crucial moment, both the machine and the spindle can be stopped quickly and safely.
---
Deublin SpindleShield
Deublin SpindleShield (US)
---
Functionality for effective leakage detection by Deublin
A rotating union is a wearing part. Not only Deublin can have a direct influence on the service life of a rotating union, but also to a large extent the machine operator. The service life can be increased, for example, through effective media filtration, correct installation and correct design of the cooling lubricant system. Deublin can give recommendations from theory and practice on all points – aks us.
If the rotating union reaches the end of its service life and the leakage increases, the machine operator must replace the rotating union. Otherwise immense consequential damage to the spindle can occur. Deublin designed the SpindleShield-technology for this purpose. With SpindleShield-technology, an electronic sensor is installed in the bearing area of the rotating union. The SpindleShield sensor sends a signal automatically and without delay as soon as it comes into contact with cooling lubricant.
---
Retrofit – Standalone – Fully Integrated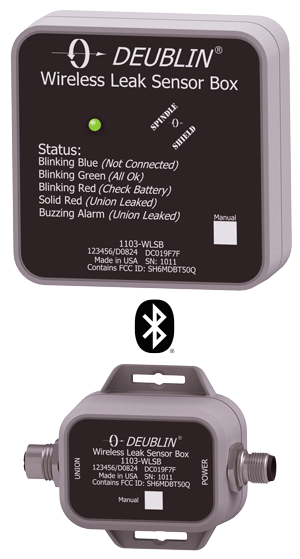 Deublin's approach offers several options for using SpindleShield® for themselves.
In the first step, the machine is retrofitted by changing to a rotating union with SpindleShield® technology. This can be done directly or at the next scheduled maintenance run. To simplify matters, SpindleShield® is available for all Deublin sealing technologies such as AutoSense®, Pop-Off® or "Closed Seal" and types of rotary unions, be it housing-supported or rotor-supported.
In the second step, you decide whether you want to transfer the signal from the rotating union directly to the machine control or, in the WLSB standalone version, to an external alarm unit that is attached outside the machine in the machine operator's work area.
Regardless of which option you choose, Deublin will support you in implementing it.
Contact us!
---